Magasin
Pratiquez la Méthode Fendenkrais chez vous.
Move Like the Animals (video + storybook) by Stephen Rosenholtz
Forfait
Cette page n'a pas été encore traduite en français, c'est pourquoi certaines parties du texte apparaissent en anglais. Vous pouvez sélectionner une autre langue dans la partie supérieure droite de la page.
Move Like the Animals (video)
Walk like a bear! Roll like a cat! Crawl like an alligator! and more in this musical exercise program for children. The award winning musical live-action video program where animals teach a small group of children developmental movement sequences through song.
Based on the movement awareness lessons of Dr. Moshe Feldenkrais. Children develop balance, coordination and motor sequencing skills while moving to original songs and music, featuring jazz greats Mark Walker on drums and percussion and Larry Grenadier on bass.
This program is designed for children ages three to eight.
video, duration: 24 min., language: English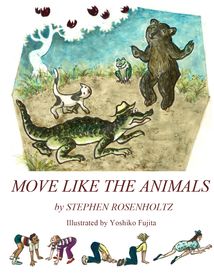 Move Like the Animals (storybook)
Newly revised with the original color illustrations made by the artist, this story with developmental movement sequences for children aged three to eight is based on the movement lessons of Moshe Feldenkrais. The storybook contains 12 color illustrations and 20 gray-scale drawings.
PDF, 34 pages, language: English